Tennis Fund Established to Honor Tennis Enthusiast Darrel Stewart
The Darrel Stewart Tennis Fund was created to benefit youth tennis programs in Pinellas County, with special consideration to Clearwater programs. Consideration for awards to be made will be done in partnership with Stewart's wife Patricia, to ensure Stewart's wishes are properly honored throughout each distribution made from the fund.
"The fund is being held and managed by us here at the USTA Florida Foundation, but we are working in tandem with Patricia each step of the way," says Alexis Johnson, Executive Director of the USTA Florida Foundation. "The money that comes in for the fund can only be awarded and distributed with Patricia's blessing, so it is a true partnership between us and Darrel's family. 100% of donations received will be awarded back out to benefit the youth tennis programs ."
Stewart's athleticism was developed long before he picked up a tennis racquet. His sport of choice growing up in Indiana was basketball, and his love for the game carried through his high school and college years. Some of his achievements include being High School City All-Star in Terre Haute, Ind., being recruited by legendary basketball coach Bobby Knight at Indiana University, and accepting an offer to play for Coach Hugh Durham at Florida State University in the late 1960s.
"Darrel was an outstanding basketball player at Florida State University when I was attending FSU in the late 60s. I did not know him very well back then, but so enjoyed watching him win for our team," says Judy Foster, a longtime friend of Patricia's who got to know Stewart after he and Pat married. "When Pat told me she and Darrel met and were getting serious, I pulled out my old FSU yearbook and took delight in finding his photo and sharing it."
A four-year starter for FSU, Stewart was nicknamed the "fastest hands in the game" by his teammates. Those hands took on a whole new challenge when it came to trading in free throws and buzzer-beaters for backhands and aces.
"When I first met Darrel in 1977 – he had never played tennis," recalls Chip Gamble, a close friend of more than 40 years. "I remember him struggling with learning to serve. He was a great athlete and quickly overcame that problem to the point he developed a booming serve in which he punished me too many times to count."
Despite embracing tennis later in life at the age of 35, Stewart quickly became an advanced player with athletic skill and prowess. He played on many USTA League teams at the McMullen Tennis Complex in Clearwater, often advancing to Sectionals and Nationals.
"He worked very hard to improve his game. That work ethic continued until he died," adds Gamble.
Tennis became very important to Stewart. He viewed the game as a continual learning experience – it was a way to challenge himself and grow through both his wins and losses. It also gave him an outlet to express himself by action and achievement, rather than by words.
"I believe tennis meant 'life' to him," shares Foster. "He dedicated himself to the game and also dedicated himself to helping Pat become a better tennis player. They were the most supportive husband and wife team I've ever known."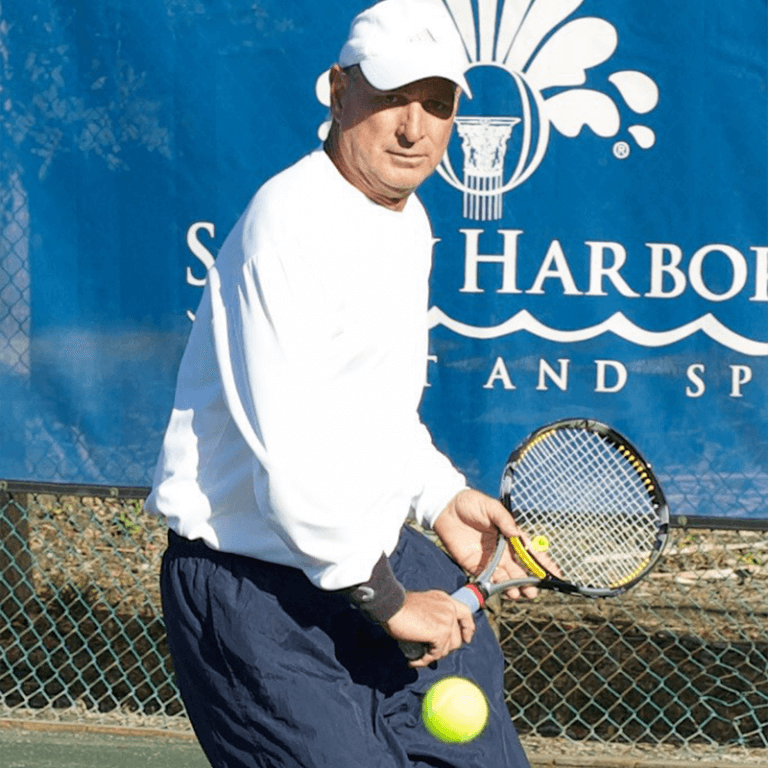 Ask anyone and they'll tell you Stewart was a strong family man who loved his wife and two daughters. He is described as a friendly, kind, humble and quiet person who shunned the spotlight but always had a smile on his face.
"Darrel was a good friend for more than 40 years, a gentleman, considerate and with enormous class on and off the court," says Bob Mullis, a longtime friend and teammate. "He was a quiet, content man, never needed to be in the limelight."
"He was always willing to help if you needed an extra hand with something," adds Gamble. "He was very competitive but not in a destructive way. He won and lost gracefully."
Darrel's love of tennis has had a positive impact on many, and that in part is why his wife Pat wanted to establish the Darrel Stewart Tennis Fund. The fund will benefit youth tennis programs throughout Pinellas County and ensure the next generation of players have the same love for tennis that Stewart had.
You can support the Darrel Stewart Tennis Fund and make an impact on the local tennis community by visiting darrelstewarttennisfund.funraise.org.
CLICK HERE TO MAKE A DONATION TO THE DARREL STEWART TENNIS FUND
For those more comfortable with sending checks instead of placing an online donation, please make checks out to "USTA Florida Section Foundation," with a note in the memo section that includes "Darrel Stewart Tennis Fund," and send them to:
USTA Florida Section Foundation
12005 Performance Drive
Orlando, Florida 32832
All content was provided by the USTA. Photo and copy for editorial purposes only all rights reserved. You may also be interested in this Tennis story from Innisbrook Resort.